Manage a master list of room names.

When a room is drawn, it is automatically assigned a name based on the naming rules established in the project's settings. Users have the option of accessing a room's properties and entering a custom name, or choosing from a list of predefined names. Clicking the "Room Names" button under the Tools tab allows users to add, remove, or edit these predefined names.
Room Names Window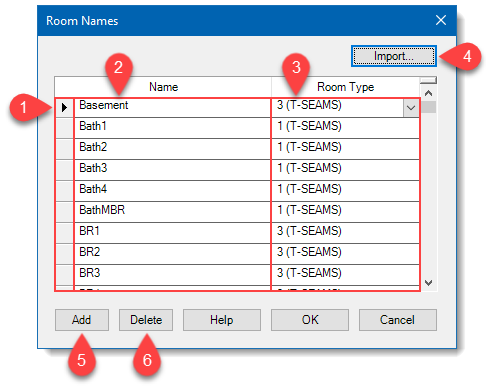 1. Select Line
Click the grey box next to a line to select it. Click and drag up or down to select multiple lines.
2. Room Name
Click within a text field to edit a room's name.
3. Room Type
Use the drop-down button on the right side of the Room Type column to choose from a list of room types.
4. Import Names
Select a plaintext file and import room names from it. Each line in the file will be added as a new name.
 5. Add Name
Add a new, blank name line to the list. Newly added lines must have a unique name entered and a room type selected.
 6. Delete Name
Delete the currently selected line(s).