A layer consists of a grid into which tiles can be drawn. Each layer can have its own grout width, angle, and grout product. Only tiles that are compatible with the grid size of a particular layer can be drawn on that layer.
Example: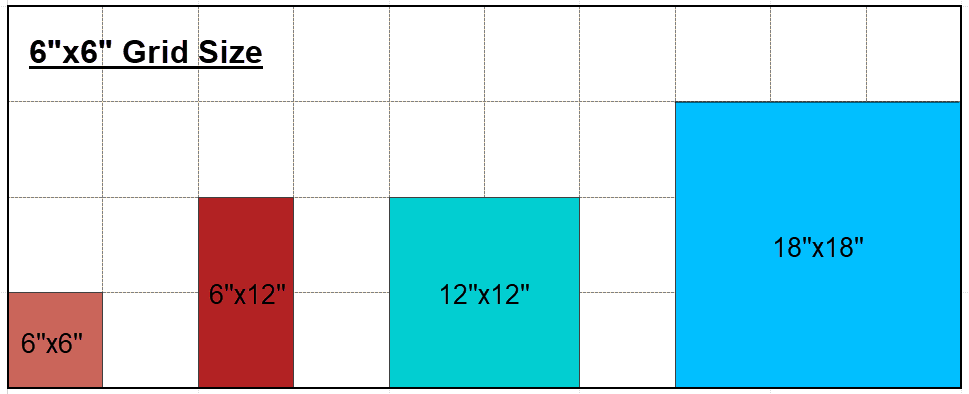 Note: Only square and rectangular tiles can be added through the tile editor. For non-rectangular tiles use the Custom Patterns or Quick Tile features.
Layers are made automatically when a Quick Tile pattern is used. They can also be created manually using the Manage Layers tool in the Tile Editor.
Select Tile Layer:
| | |
| --- | --- |
| Use this drop down box to select which layer you would like to work on. | |
Manage Layers:
Use this tool to edit existing layer properties or to add new layers manually.

Select the layer by clicking on the name so that it is highlighted in blue.

Use the "plus" and "x" buttons to add a layer or delete a selected layer.

Use the up or down arrow to move a selected layer's list position.

Each layer can have its own name, grout, angle, and grout product.

When creating a new layer you will be prompted to define the grid size.

Newly created layers will not contain any tile.
Tile Pattern Start:
Relative to room:
Choose a point within the room to use as the pattern start. When the room moves, the pattern remains unchanged within the room.
Center tile:
Centers the tile size within the room.
Center grout line:
Centers the grout crossover in the room.