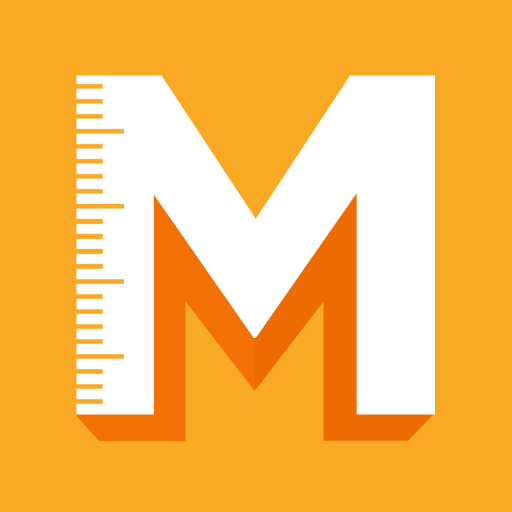 The following is a list of new features, improvements and bug fixes that are included in Measure Mobile 4.0, released on Thursday, November 15, 2018 to the Apple App Store, Google Play Store and Microsoft Stores. 
Measure Mobile 4.0 requires a license to log in and sync your projects to cloud storage and other premium features such as attaching photos and accessing 3D clipart. For more information on this change, see our help article here: Measure Mobile Licensing Update.
New Features:
Access to a pre-defined library of high quality 3D objects is now available via the 3D ClipArt icon in the drawing popup menu. We'll continue to add new objects to this library. Please post your suggestions for new objects in the Community Forum.
A horizontal, full-screen view of the roll plan is now available. In this view, there is an option to view single/multiple rows/columns. Adjustments to the roll plan are now much easier to perform.
Improvements:
Project Sync has been improved and is faster
Blueprints can now be downloaded for individual projects instead of for all projects all at once (improves project sync time)
Simplified and improved popup menu in Drawing screen (better for smaller screens)
Snapping to rooms has been improved and only occurs with immediately adjacent rooms
Estimating Roll Products:
It is now possible to drag entire cut groups
It is now possible to switch the Cut Gap from guillotine to all sides to length, etc from the roll plan
The Cut Increment is now a project setting that is applied to all roll products
It is now possible to specify the Maximum Cut Gap Length on the Project Settings dialog
There is now an option to place the majority of fill pieces at the end of the roll
3D:
The 2D representation of 3D clipart is now more realistic looking
3D clipart now moves with the room
3D walkthrough mode is now smoother and less touchy. Its also easier to navigate between rooms
Photos:
Add captions to photos
When attaching photos, indicate if it should be included in the proposal and/or installation document
Bug Fixes:
The Cut Increment should be respected when T- and length seams as added
The undo of cut movements is now more reliable
Glitchy behaviors when selecting cuts in the drawing and roll windows were corrected
It's now possible to zoom and pan while viewing the 3D scene
The Undo button on Line Draw has been restored
Various situations were corrected in which dragging a cut on the roll failed
When a cut drag is actually impossible, a toaster message appears and the cut is returned to its original position
Fixed bug with displaying Extra Waste in Estimate panel
Textboxes with center and right justification were not properly positioned when Fit to Size was selected
Cut names no longer change when moving cuts on the roll
Extra waste was sometimes not applied when Length was selected as the Unit Type
Cut Increment is now respected when the user drags cuts on a roll
Corrected Redo operation after adding and moving a T-seam
---
The following is a list of improvements and bug fixes that were included in Measure Mobile 3.20.10, released on Tuesday, July 17, 2018 to the Apple App Store, Google Play Store and Microsoft Stores. 
New Features:
Ability to assign a color family to a product category: Administrators and Managers may assign a color family to any product category in admin.rfms.online > Products. Once assigned, products belonging to that product category that are imported to a project or are synced to the cloud from RFMS will receive visual colors that are similar to the product category's color family.* In addition, products that are created manually, either in the cloud or in Measure Mobile, will automatically receive visual colors within that family. These visual colors do not reflect the actual color from the manufacturer, but are simply intended for a more realistic representation of the product on the drawing screen and room plan. 

Note: If you have RFMS products stored in the cloud already that are included in templates, you will need to ask support via measuresupport@rfms.com to refresh your cloud products. This will re-apply the color assignments based on the newly selected color family.
Improvements:
Extra Waste factor can now be added, adjusted or removed while viewing the Estimate tab on the Drawing screen.
Extra Waste factor is now visible on the worksheet list itself, rather than just within the side menu when the line item is selected.
The expand/contract state of the customer information fields on the Add Project screen is now sticky. So, you can either leave it expanded or contracted each time you create a new project, depending on your preference.
Tax information is no longer removed from the Worksheet after exporting to RFMS. Please note that tax is never exported to RFMS - this is for cosmetic purposes only in Measure Mobile.*
French translation is now available.
Bug Fixes:
Improved memory usage on the drawing screen to prevent the app from crashing due to the mobile device running out of memory. 
Fixed some actions related to the Undo feature.
 *Requires an RFMS Mobile license
---
The following new features, improvements and bug fixes are included in Measure Mobile 3.20, released on Wednesday, June 20, 2018 to the Google Play Store and Microsoft Stores.
Notes:
This update will be released to the Apple App Store by Friday, June 29, 2018. 

This update temporarily removes the 3D icon from the Windows App due to usability problems on that platform. We intend to resolve these problems as part of a future release.
New Features:
Updated visual design: the toolbar is now located near the top of the screen and the Project Settings and Support icons are always visible in the side nav panel.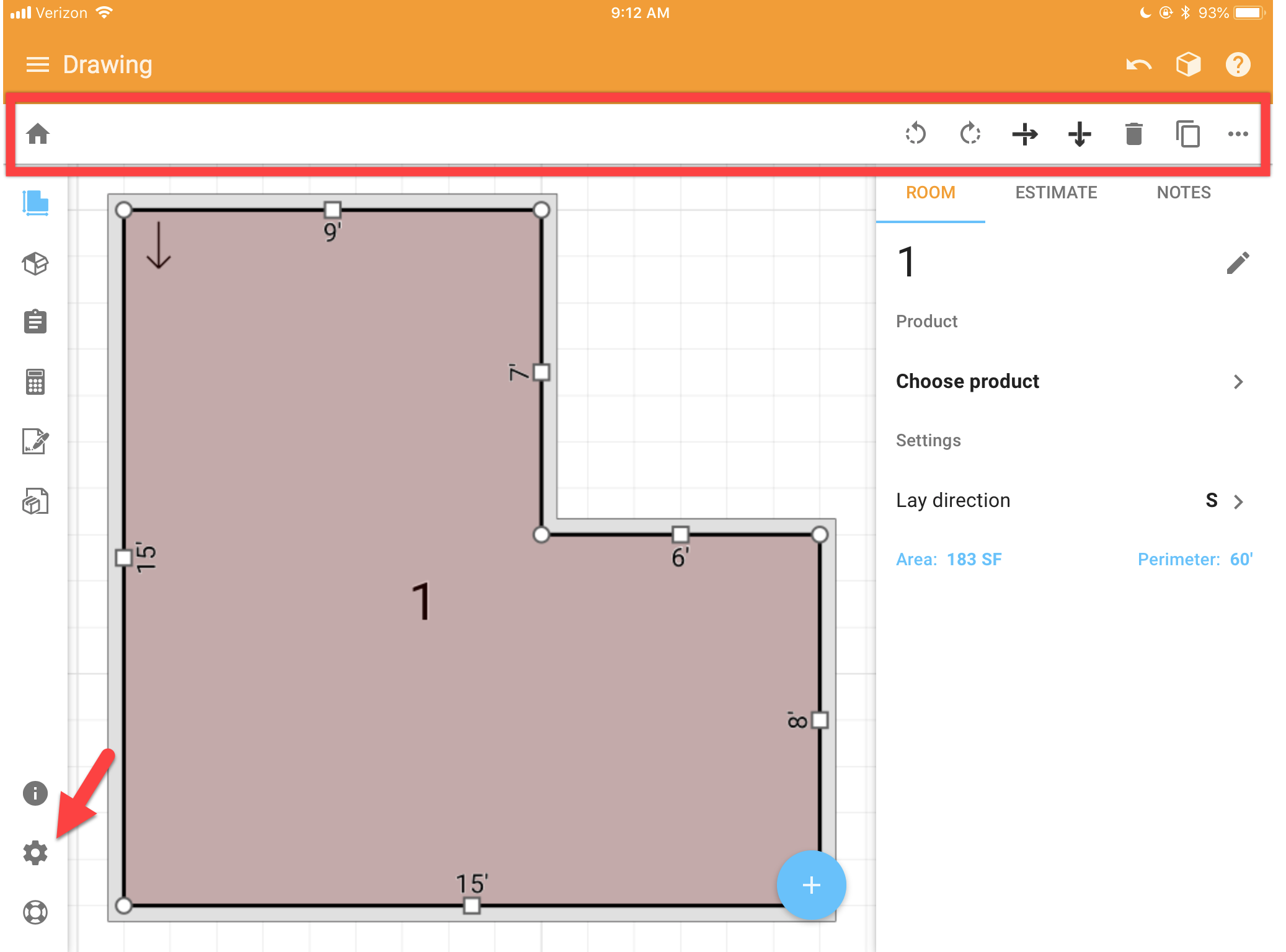 Users can now import 3D objects from their own library and simple objects from the open source Google Poly 3D object library
A new walk-through mode in the 3D viewer allows you to select a room to go into, then use pinch/zoom and swipe motions to move through the room and adjust your perspective.
Improvements:
Projects can now be created based on an order (that has not been job-costed)*
Finalized projects can now be exported to RFMS*
Replaced "Any Open", "Draft" and "Pending" options with a single "Open" option in the Projects screen
Room notes no longer appear in line notes when exported to RFMS, but are instead exported to Work Order Line Notes*
Users can now change the extra waste amount from the Drawing screen, Estimate tab
Bug Fixes:
Fixed a bug when using the Android Oreo 8.0 OS where users could not share PDF Proposal/Installation documents
It is no longer possible to produce an overlay in the rolls view by dragging a cut
Allow user to create a project without creating customer/sales lead if network connection is not available*
*Requires an RFMS Mobile license
---
The following is a list of improvements and bug fixes that were included in Measure Mobile 3.19, released on Tuesday, April 10, 2018 to the Apple App Store, Google Play Store and Microsoft Store.
New Features:
"Default walls" can now be applied as you draw rooms. This feature can be turned on in the Project Settings screen. Wall thickness, height and a default color can be set here as well.
Scene View shows a 3D view of the room plan. You may press the selection icon in the upper right corner of the screen to select or deselect rooms that should appear. 
A 3D view is also included in the Proposal/Installation documents if the Room Plan is selected. This view is currently fixed. Improvements to the customization of this view are coming soon!
Create and edit circle and ellipses shapes. These circles can also be used to punch out holes within a room. More improvements to the hole feature are coming soon!
The right side panel can be hidden on the drawing screen to allow more room when drawing, editing or just viewing the room plan. 
Products with more than one color option now show a To Be Determined color option. This is supported when exporting to RFMS Quote and Orders.
Font size for Cut Group information can now be adjusted on the Installation screen.
RFMS BidPro Users can now create projects based on Estimates. Note: These projects cannot be used to update that original estimate, but rather a new BidPro estimate or order must be created when exporting to RFMS.
Improvements:
Total Net Area of rooms with Hard Surface product applied now appears in the Estimate tab
Fixed Line and Fixed Grand Total features are disabled for users who cannot write-in a price.*
Transition height and distance from floor (Windows only) are now able to be supplied.
Removed Post Payment feature from the payment screen for RFMS Mobile (Measure Order Entry) users. 
Seam icons no longer appear when viewing Hard Surface products on the Estimate tab.
RFMS Products with too small of a pattern match (<.5") will display a meaningful message that indicates the user must change the pattern size or remove it in order to import the product. 
Bug Fixes:
Customer information no longer overrides a manually created Project Title. 
Tile and Roll allocation no longer generate an error when waste is zero.
ProSource Business Name now appears and is sent to RFMS when using customer search on the Add Project dialog. 
---
The following is a list of improvements and bug fixes that are included in Measure Mobile 3.18.34, released on Monday, February 12, 2018 to the Apple App Store (Windows and Android Stores are soon to follow).
New Features:
Extend Leica Disto measurements by a default amount (setting is located at the bottom of the disto menu)

Pinch to zoom is now supported when viewing the Proposal/Installation documents and photos attached to the project

Discounted amount is now supported when exported to RFMS.* This is done by reducing each line item by the discounted amount, similar to when a Fixed Grand Total is set.

RFMS Mobile users can now search for store products using the barcode scanner. The barcode must be an RFMS generated Product Barcode. This feature is available on the Products and Worksheet screens.*

RFMS Mobile users can now search for store products using the Color SKU number. This feature is available on the Products and Worksheet screens.*

Improvements to the "Apply Price Level to all Lines" feature when multiple price levels are present across line items on the worksheet.
Fixed:
Projects with photos were not uploading, even with a good network connection (iOS users only)

Allocation was failing intermittently for hard surface items and patterned roll products. 

Miscellaneous type primary flooring products applied directly to rooms appeared as add-on type products
* Requires a subscription to RFMS Mobile
---
Previous Version
The following is a list of improvements and bug fixes that are included in Measure Mobile 3.18.5, released on Tuesday, November 21, 2017 to all App Stores.
Improved export process to RFMS Mobile allows users to decline sending PDF documents or to cancel the export altogether in the event of a poor network connection.
When entering Imperial measurements for product data such as width and length, the default unit is now inches if no quotation marks are provided. 
Fixed: Match Material was not showing up for products associated with certain checklist items.
Fixed: RFMS Products with user waste calculated by Unit Type are now imported into Measure projects with the correct amount of user waste. 
---
Previous Version
The following is a list of new features and bug fixes that are included in Measure Mobile 3.18, which was released on Wednesday October 25, 2017 to all App Stores.
Note: As of this release of Measure Mobile, any user that integrates with RFMS to create quotes, orders or BidPro estimates from Measure Mobile must use RFMS Mobile 1.4 or greater in order to do so. Measure Mobile now employs RFMS Mobile to complete the export to RFMS.
New Features
General
Now supports iPad multitasking (split screen) for iOS 11 users
Projects Screen
·       Simplified Add Project dialog when creating a project based on existing RFMS quote*
·       Added a Zillow button next to the Map button in Add Project and Project Information dialog which launches the Zillow web site with customer address. This website will give you an idea of the value of your customer's home. (Important: Do not download the Zillow App - continue to use the website for this purpose).
·       Opening a project and navigating around in it no longer causes a synchronization to occur, resulting in less risk of overwriting a project with blank or old data
·       Projects associated with an Order or a BidPro Estimate are no longer Finalized automatically. They can be edited and used to update the Order or BidPro Estimate. Of course, the user can choose to finalize the project manually if they wish.*
Drawing
·       Product chooser lists products already applied to the job under This Project with both product and color used
·       When applying product to rooms, products associated with checklist items and add-on only products are not presented in the product chooser list
·       The splitter line itself (not just its endpoints) may be dragged during the Split operation
·       More helpful measurements are presented when dragging one room over another
Products
·       It is now possible to set the cut increment for a roll product
·       When searching for products, RFMS users will no longer see cloud search results*
Worksheet
·       Export to RFMS now works in a similar manner to exporting from Measure Desktop, launching RFMS Mobile with options to create a new Quote, Order or BidPro Estimate* (See the tutorial here)
·       Users are now allowed to send updates to RFMS Orders and BidPro Estimates*
·       Projects are no longer finalized when an Order or BidPro Estimate is created*
·       RFMS Taxes are no longer displayed on the Worksheet*
·       Changes made to Quotes in RFMS are no longer inserted back into the Measure Mobile Worksheet. Rather, any changes made in Measure Mobile can be exported to RFMS Mobile where changes made to RFMS Quotes/Orders/Estimates can be seen and edited*
Proposal/Installation
·       Proposal clearly indicates that it is a proposal-only and is associated with an RFMS quote or order, but not the actual quote/order*
·       Installation document and a special document (called Measure Mobile Attachment) automatically sent to RFMS when creating or updating an RFMS document*
·       The Measure Mobile Attachment is later combined with the Quote/Order/Estimate PDF that is generated from RFMS Mobile for the purpose of emailing to the customer*
·       The Measure Mobile Attachment is made up of the optional Room Plan, Checklist and Photo content selections on the Proposal screen – if these are not selected, no Attachment is sent
·       Default layout is Portrait for Proposal document and the Measure Mobile Attachment*
·       The room plan and seam plan in the installation document PDF can optionally be drawn to scale
* Feature only applies to users of RFMS Mobile (MOE)
Bug Fixes
Remember user preferences for Project Settings and Proposal/Installation documents when creating a project based on an RFMS quote*
Smart quotes now converted to inch and foot marks for iOS 11 users
Limits on zooming are now adjusted when room copy is performed
Checklist items now properly show matched material options
Corrected additional issue with disappearing seam lines
Jobs with concave curves allocate much more quickly now
Room(s) containing rolled goods were not appearing on the roll plan in rare cases
Delete point now deletes an entire curve
Cosmetic issues with cut labels were corrected
Lay angle is properly shown for values other than multiples of 45 degrees
Allow missing photos to be deleted
Show subtotals in Worksheet for all users
Allow "Show Subtotals" checkbox in Proposal for all users
Ignore missing photos when generating PDF
* Fix only applies to users of RFMS Mobile (MOE)