Edges are primarily used to designate room sides that connect to wall flaps.

By default, edges are rendered as orange lines. The type of line indicates the fold direction of any attached flaps:
Dashed Line
Folded toward.

Solid Line
Folded away.


Dash-Dotted Line
Flat or no attached flap.

When a wall flap is attached to a room, an edge line between the floor and the flap is automatically generated. Certain properties of the attached flap and the edge itself can be modified by selecting the edge and double-clicking it. Doing this brings up the Edit Edge window.
Edit Edge Window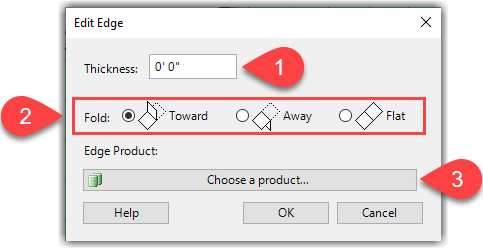 1.  Thickness
Enter an optional thickness for the flap attached to the edge. This setting only affects the way the flap is rendered in the 3D viewer and does not affect material calculation. Valid range: 0" - 2'0"
2.  Fold
Change the fold direction of the flap attached to the edge.
3.  Edge Product
Open the Product Selector and choose a product or service to assign to the edge. Products sold by a linear unit of measure will be created as a Room Add-on that utilizes a special "(Transition)" calculation method that matches the total length of the edge. Assigning a Tile product to an edge will generate a single row of tiles. A line matching the color of the tile will be placed under the edge as an indicator that a tile product is in use there.
Tip: Select a room, then double-click a handle on one of its sides to open the "Edit Edge" window and select a product. Using Edges in this way can be a simple method for assigning bullnose tile or similar products.