Export all data from the Worksheet to a richly formatted spreadsheet that utilizes the powerful Excel PivotTable feature.

Notes:
Enhanced Export to Excel is only available in the Premier edition of Measure.
This feature is intended only for advanced Excel users. Because Microsoft Excel is a third-party product, RFMS cannot offer support or training for it.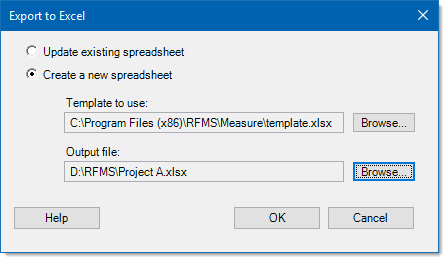 ---
How To:
1.  Click the "Excel" button in the upper-right corner of the Worksheet.
2.  To export the data to a new file, select "Create a new spreadsheet".
OR
To add new data into an Excel export that has already been completed, choose "Update exiting spreadsheet". The "Template to use" and "Output file" fields will become locked, so the original template and spreadsheet files must remain in their original locations.
3.  (Optional) Choose a new template file. It is highly recommended that the default template be used.
4.  Click the "Browse" button next to the "Output file" field, choose a folder in which the Excel file should be created, enter a name for it, and click "Save"
5.  Click the "OK" button in the "Export to Excel" window to complete the operation.