There are multiple way that you can add or change the product in a room. One way is using the Select Product tool in the Home tab of the ribbon bar, the other is using the Products section of the Palette.
For the Paint Room method please see the article Paint Room Tool.

Using an older version of Measure?

The Select Product Tool
Adding or Changing Product to a Room
Whatever product is displayed in the Select Product box is what will be applied to newly drawn rooms.
Changing the product in the Select Product box while a room(s) is select will change the product in that room(s).
Clicking on this tool will open the Select Product dialog box.
Tip:
If you use a multi-monitor set up you can set this box or the Product List to remain open on the other screen to speed up the workflow process.
You can choose to drag and drop products from the Select Product dialog box to rooms on your drawing to apply product.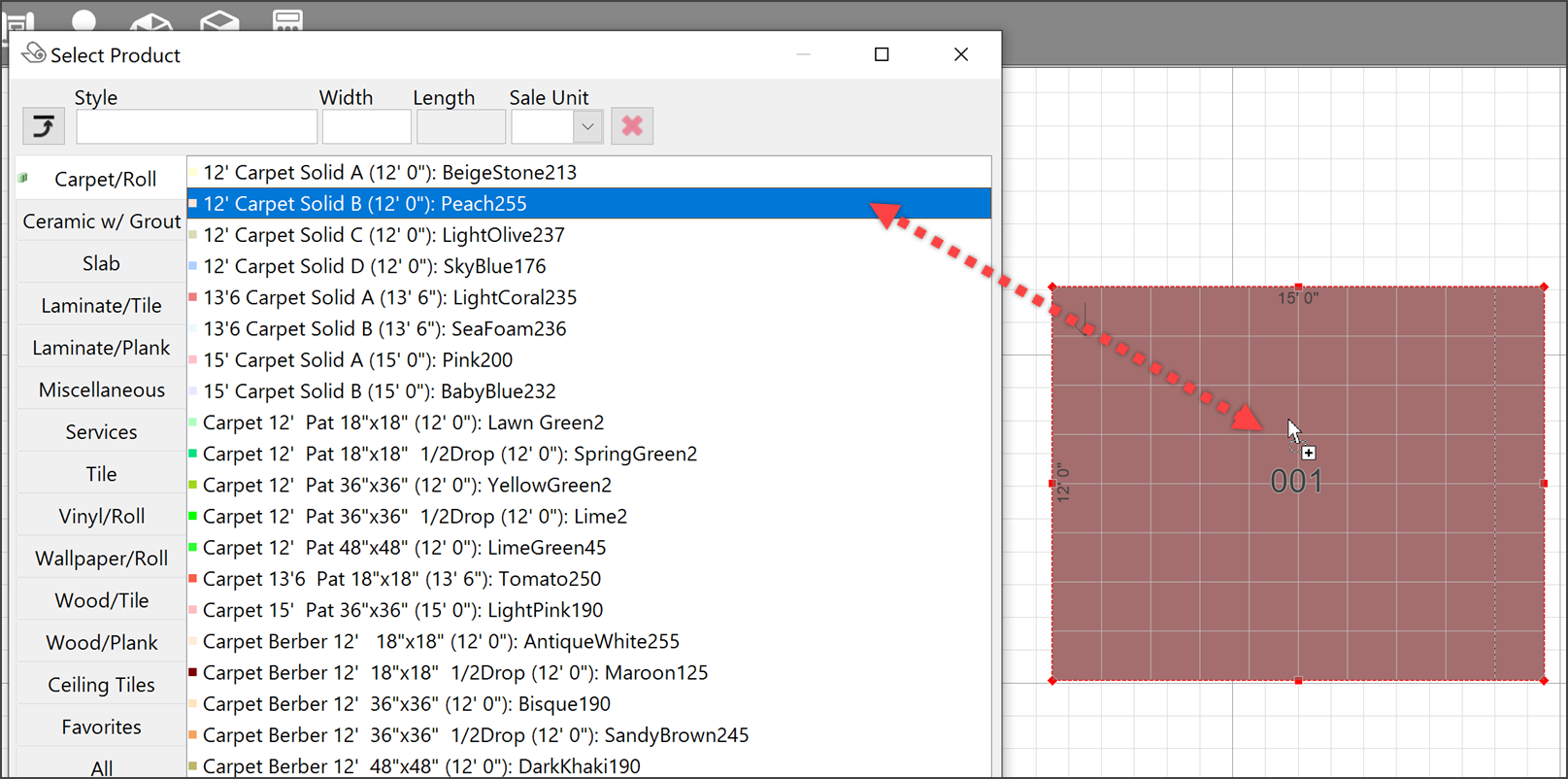 Select Product Dialog Box

Product Categories
All materials and services in Measure are organized into categories in the Product List. Left-click the category in which the product you're looking for is located.


Toggle Category Layout
Toggle the placement of categories between their default left-side orientation and a tab-based orientation with categories displayed above products.


Filter Product List
Filter the selected product category according to Style Name, Width, Length, or Unit of Sale.


Clear Filter
Remove all product filters.


Products
Products and services within the selected category are listed in this area.

Change View
Clicking this button toggles through several different layouts related to the way products are listed.


Add to Favorite
The "Select Product" window includes a category for favorite products. Select a product and click this button to copy it to the Favorites category.


Add New Product
Open the Add Product Wizard and begin entering data for a new product.


Product List
Open Measure's Product List.


Search Database
If your company utilizes RFMS Mobile or has an RFMS Cloud Storage account, this feature will allow you to search your store or the Cloud and import products.


None
Assign a "None" product to the room. Useful in situations where a room needs to be included on a takeoff, but will not be receiving any primary flooring products.
The Product Palette
The dock-able Palette bar allows quick access to your product list so that you can drag and drop products, services, and add-ons to your rooms. (For more information on the Palette and other dock-able sidebars please see our Screen Layout article.) 
To add or edit products in the palette go to the Product List by clicking this icon,

, in the navigation bar. (For more information please see our Product List article. )