If you have a current Measure Desktop or Measure Mobile license subscription, then you have access to Cloud Storage.
How to Save to the Cloud
1. Go to

Menu > Save to Cloud to save your current project to Cloud Storage.
2. The Save to Cloud dialog will open with the following options:
Folder: This is the Cloud storage folder to which the project will be saved. Users that have been assigned the "Administrator" or "Manager" role can save projects in their own folder or those of other users in the organization. "Estimators" only have access to their own folder. User Role Information.
Newly created users have a folder automatically generated for them. Folders can also be created manually through the RFMS Online Services site.
Title: Enter a name for your project.
Status: You may choose Draft, Pending, Finalized, or Archived to indicate the current status of the project. When opening projects from Cloud Storage, you can filter by Status to help find a project.
Create New: The first time you save a project to the Cloud, the Create New button will appear. If the project has been saved to the Cloud before, the Save dialog will give you the option of saving a new copy of the project or update the existing one.

How to Open from the Cloud
1. Go to

Menu Open from Cloud to open one of your projects from Cloud Storage.
2. The Open Cloud Project dialog box will open, listing the projects you have saved to the cloud.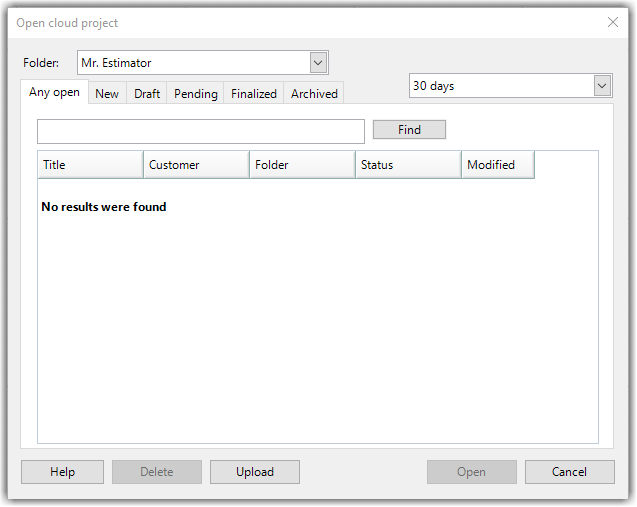 3. The Open Cloud Project dialog allows you to choose which folder to open a project from. Users with the "Estimator" role can only access their own folder, while users with the "Manager" or "Administrator" role can access any folder. User Roles Information.
Tip: Projects can be filtered by status using the tabs under the Folder drop-down box. They can then be sorted by clicking one of the column headings.