NOTE: This feature is only available to users who have a Measure Cloud Storage subscription.
If your Measure administrator has created templates in the Cloud, then you will be prompted to choose one when starting a new project.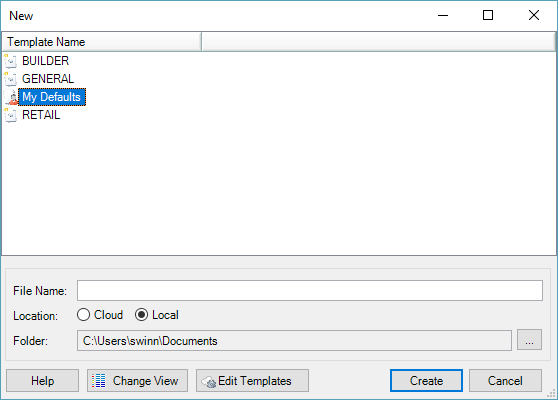 Templates are project profiles that already have some products in place. Additionally, templates have a predefined unit of measure. You can choose to edit templates by selecting the Edit Templates button, or create new ones through RFMS Online Services.
In addition to any templates you have created, there will also be a "My Defaults" option. This option simply uses the default products and settings that have been saved on the local workstation.
Aside from selecting a template, you must enter the following information:
File Name: The name of the drawing. If saved as a local file, the extension .msr will be appended automatically.

Cloud or Local: The location where the drawing will be saved, either to cloud storage, or as a file on the local computer.
Folder: The folder that will contain the drawing, either in the cloud, or on the local computer.