Whether you have added a room to your drawing using a quick room, free draw, or other method, editing a rooms shape is the same process for each. If you would like to edit a rooms dimensions with a Disto laser measuring device please see our How to Edit a Room with a Disto article.
Video Tutorial
Editing Dimensions
Drag room handles to manually increase or decrease length of sides.
Select room, then the edit button .
Use the square room handles to lengthen or shorten sides.
Tap anywhere on the drawing to deselect the room.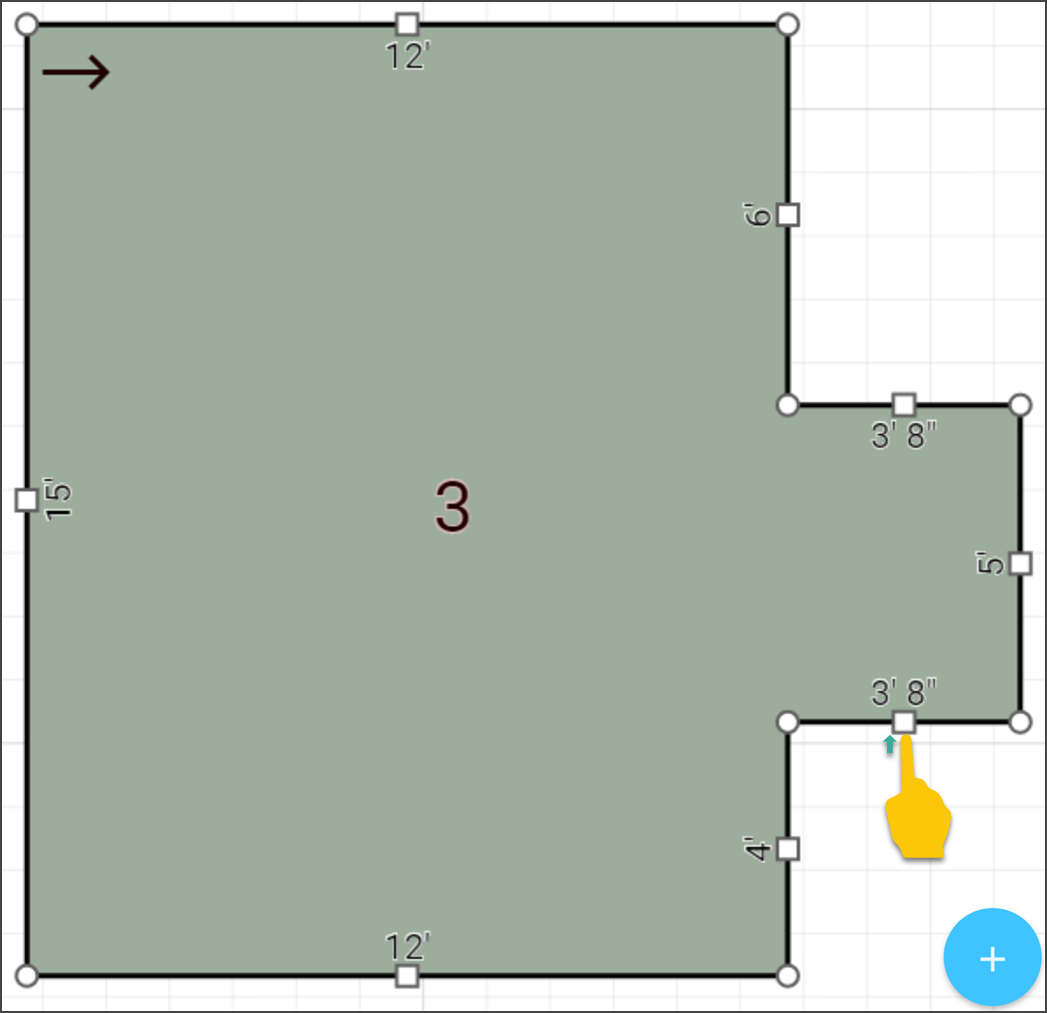 Use the keypad to enter the length of each side.
Select room, then the edit button .
Select a square handle along one side of the room. The side will have a red line direction arrow appear and all room handles will have red indicator lines around them.
Enter the desired length in the Keypad to the right. Tap the checkmark to apply the new length.
Use the Reverse Direction button to change the line direction arrow. Use the Next and Previous buttons to select the next or previous side.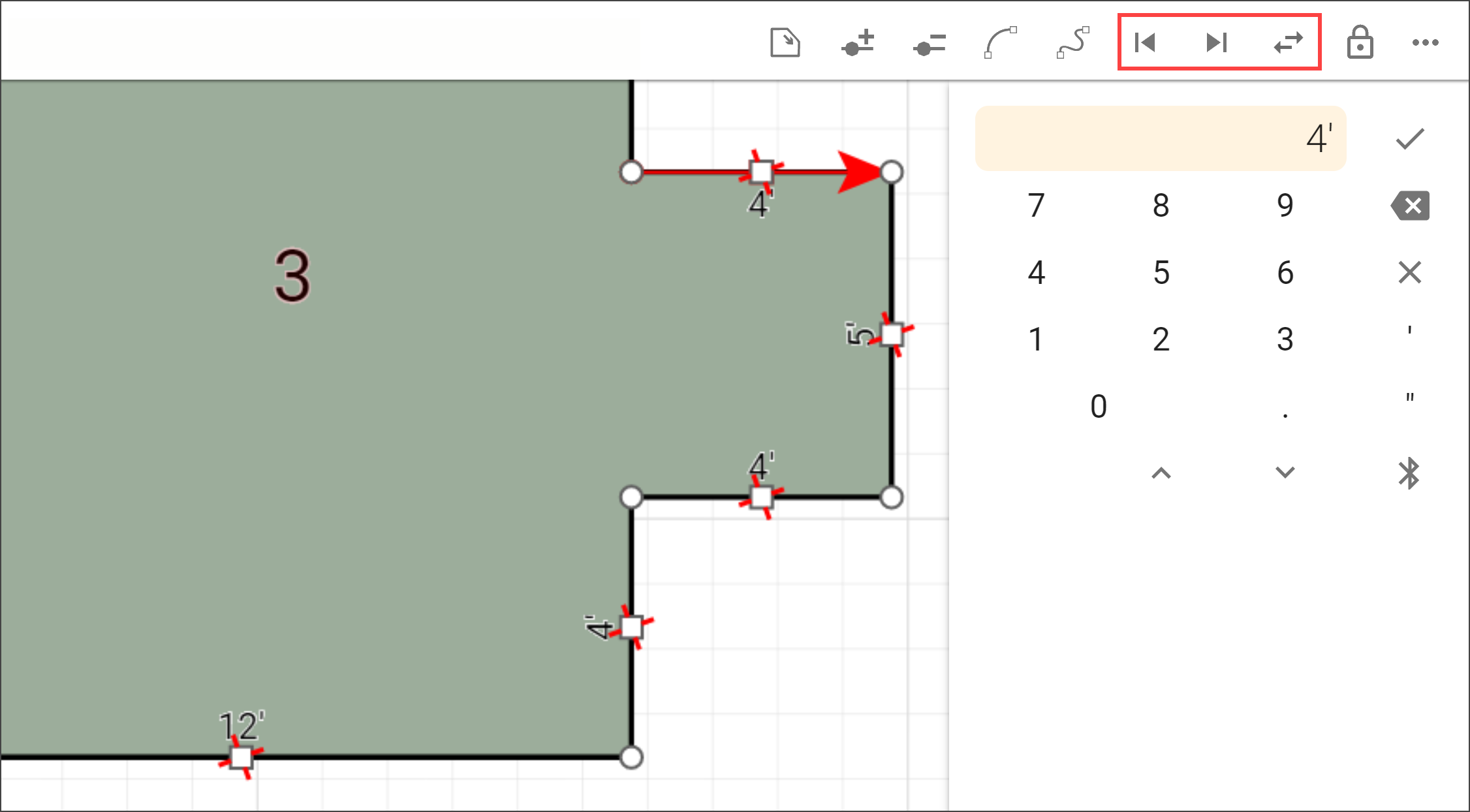 Use a Disto laser measuring device to assign length to sides
Editing Angles
Use the circular handles to adjust angles. For information about how to adjust angles while drawing a room please see our Line Draw article.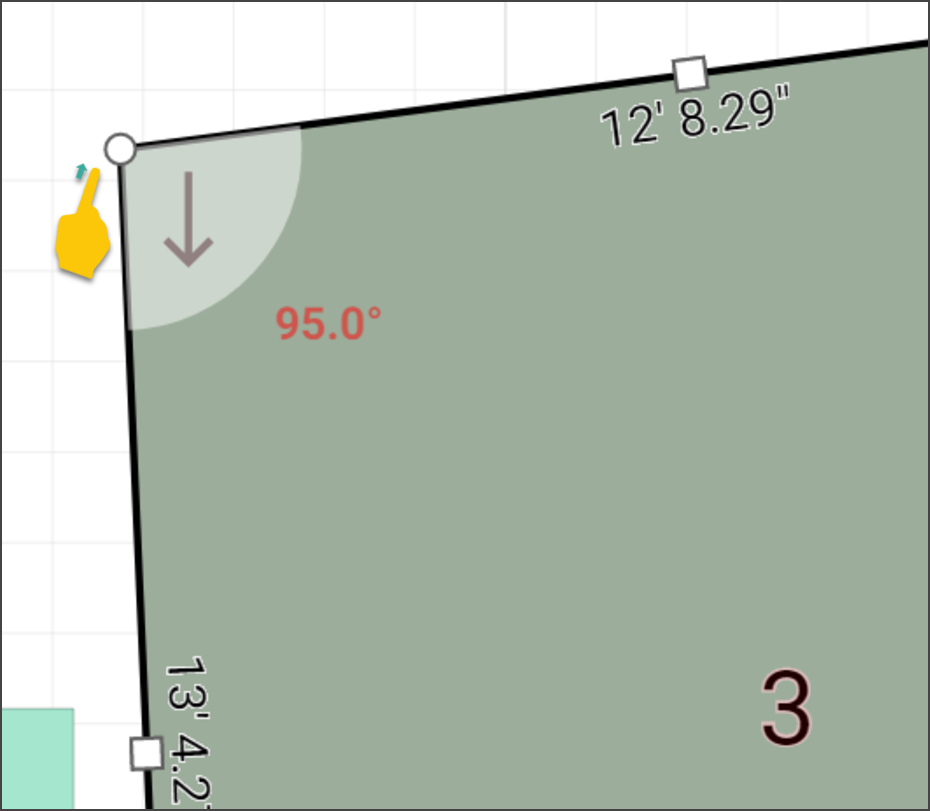 Tools for Editing a Room
Copy, Lock, Delete
Delete Room

Select a room(s) then tap the Delete button to remove it.

Copy Room

Select a room(s) the tap the Copy button to duplicate the rooms. They will automatically appear on the drawing area.

Lock

Select a room(s) then tap the Lock button.

Locked rooms cannot be edited or moved. A lock icon will appear in rooms that are locked.
Flip, Rotate, Join, Punch Out, Split, Attach
Flip Horizontal or Vertical

Select a room and make sure the Room tab is selected to the right.
In the bottom right of the screen there will be a row of icons. Select either to flip vertically or horizontally.

Rotate Room

Select a room then tap the Rotate button
Using the rotation handle in the corners of the room spin the room to the desired angle.
Use the angle meter in the top left of the drawing screen as your guide.

Join Rooms

Select two or more rooms that are touching
Tap the Merge button to combine the areas

Punch Out

Select two overlapping rooms
Tap the Punch Out button. The bottom room will be reshaped to fit around the overlapping area of the top room

Tip: To change which room is on top, select it, drag it away from the room it is touching, then reposition it. This will ensure that it is arranged as the top room.

Tip: If punching out a smaller area from a larger area, place the smaller area on top and select it first.

Split Room

Select a room then select the split tool
Drag the splitter line, or either of the ends, to position
Tap Split tool again to perform the split

Attach Room

Select two rooms, then the Attach Room button
Select a single side from each room
Tap the Attach Room button again
Line Direction, Points, Curves, Break Open
Reverse line direction.

A red arrow indicates the direction of the side currently selected. Any amount added or substracted will be from that direction. It also indicates which direction the next selected line will be from.

Add Point

Select a room, then the edit button
Select a side
Tap the Add Point button to insert a point along the selected side.
Drag Points or Side handles to edit the shape of the room

Remove Point

Select a room, then the edit button
Select a side
Tap the Remove Point button. The point at the back of the red line direction arrow will be removed. To switch line directions use the Reverse line direction button .

Add Symmetrical Curve

Select room, then the edit button
Select a side
Tap the Add Symmetrical Curve button
Drag a handle, both will move, and use the angle guide to achieve the desired arc.

Add Curve

Select room, then the edit button
Select a side
Tap the Add Curve button
Drag the handles, they move independently of each other, to achieve the desired shape

Remove Curve

Select a room, then the edit button
Select a side with an curve
Tap the Remove Curve button

Break Open Room

Select a room, then the edit button
Select a the side you want to break open then tap the Break Open tool
Draw the addition/adjustment to the room using the Free Draw method
Close room to complete the edit