Measure Mobile gives you the ability to add and edit stairs on the floor plan. These stairs can include a variety of options including landings, wedge shape, and pie shaped stairs.
Adding and Editing Stairs
How to Add Stairs to the Drawing
From the drawing screen tap the blue plus icon then select the stairs tool.
From the preconfigured stair types, select that option that best matches what is needed for the room. Tap the "Add" button to place it in the drawing area.
Tap on the stair, or section of stairs, to select it. Then select the edit button to begin adjusting the configuration.
Use the flip horizontal, flip vertical, and rotate tools to adjust the the position of the stairway.

In the Stairs section of the Room tab, adjust the riser height, tread depth, and number of stairs for a selected segment. The number of stairs can also be edited by manually dragging the stairway.

Use the handles on a segment of stair to adjust the width. If there are other stairway segments, then they will expand or contract to match. Alternately, you can use the Keypad to edit stair width.

Note: The riser and tread settings will be respected when the dimensions are adjusted. Steps will be added or subtracted based on these settings.
How to Add Custom Stairs to the Stair Library
Once the stairs are finished being configured select the stairs.
Tap the blue plus icon and open the Stairs tool. An additional button will appear in the lower left corner, "New". Tap this button to add the currently select stairway to the stair library.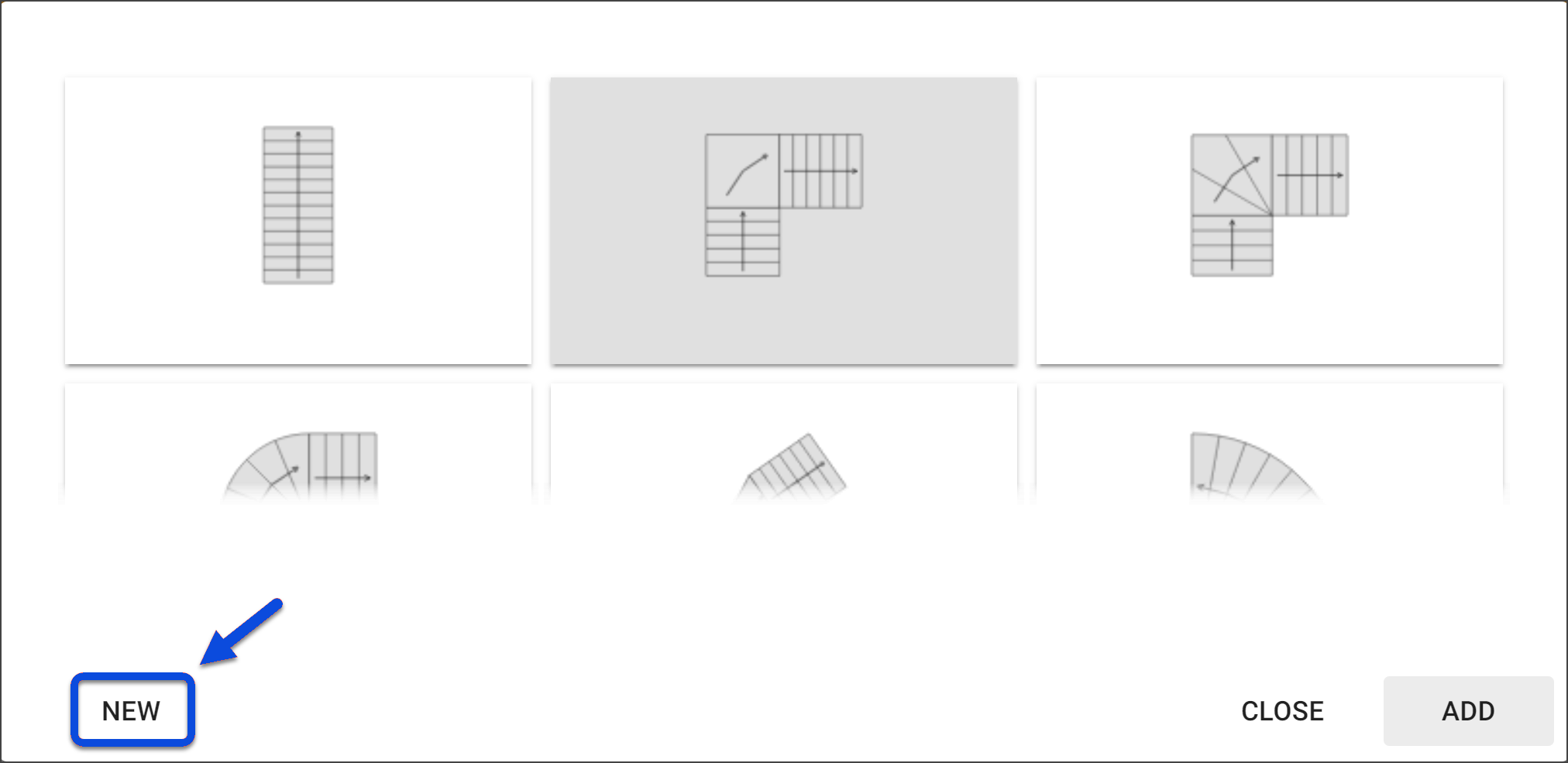 Editing Pie Shaped Stairs, Landings, and Winders
Tip: Since wedge shaped stairs are triangular, the option to set Tread Depth is not available as this would be different for each stair. Most often the option for Rectangular Cuts will be checked and is the default setting. Unchecking this option will allocated cuts to the exact shape of the wedge or pie-shaped stair.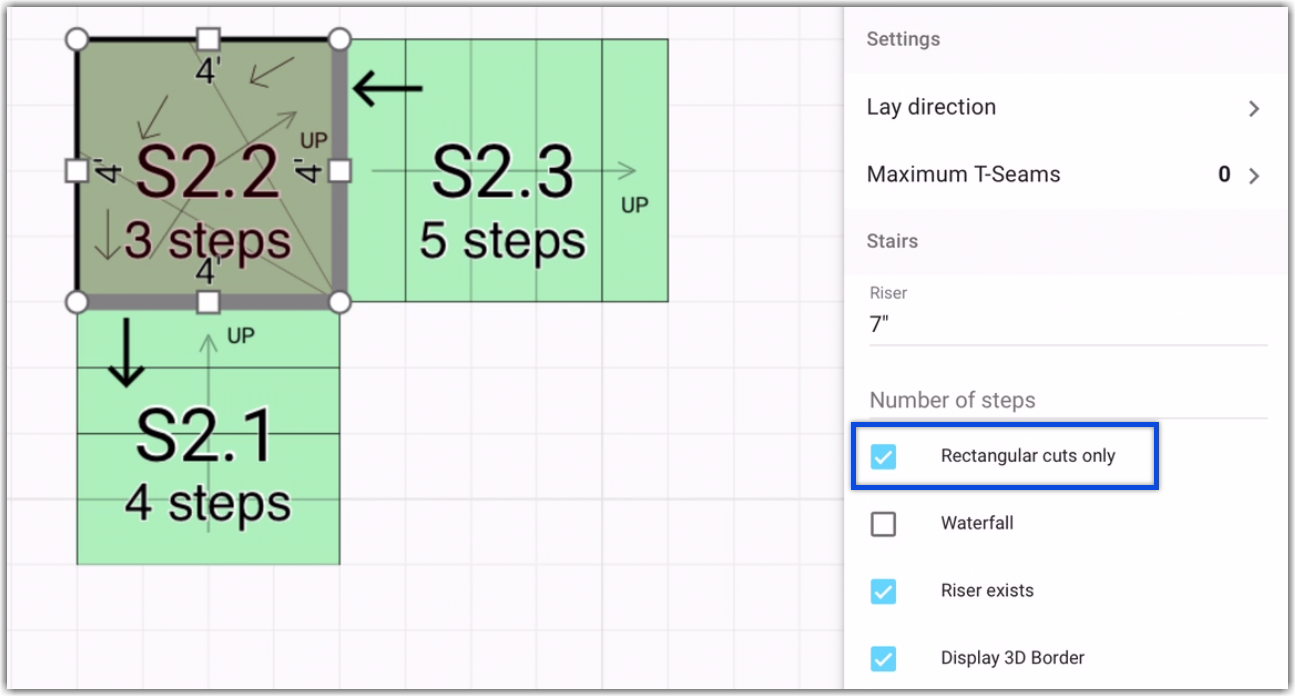 Stair Customization Options

In the Stairs section of the Room tab various options will appear to allow you to customize selected stairs.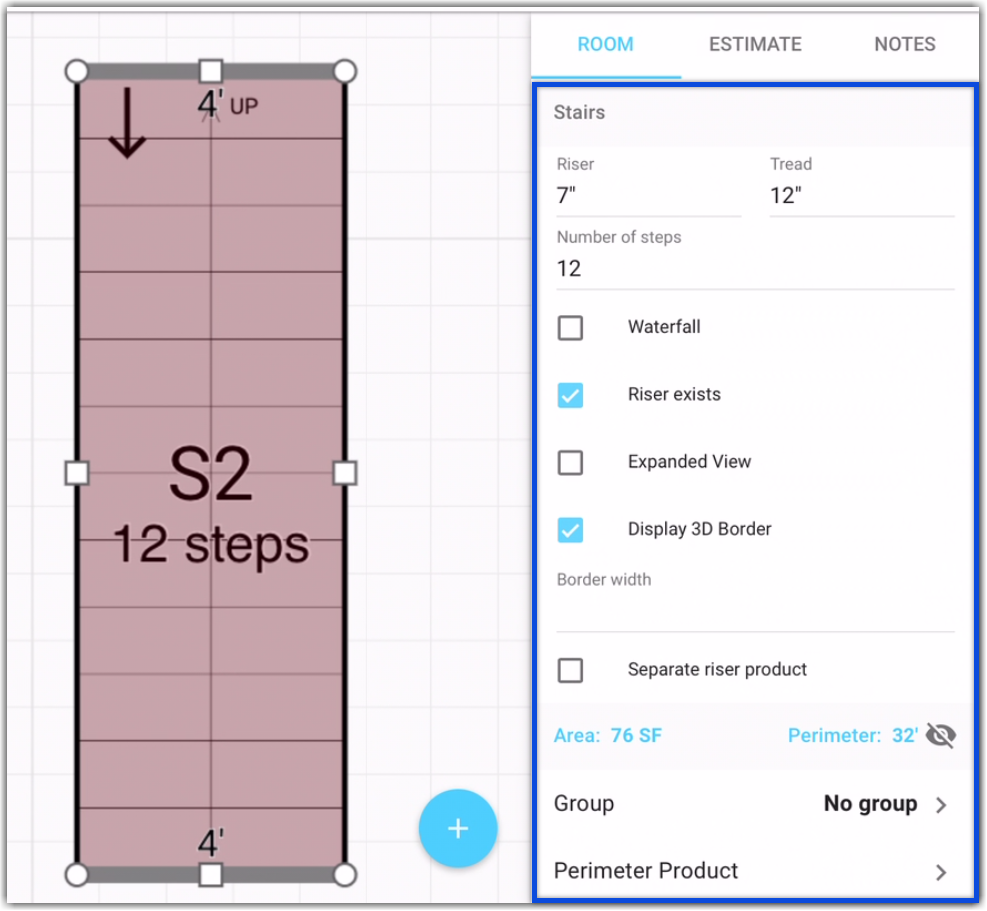 Waterfall

Available when stair segments are selected and a product has been applied. This option, when enabled, will allocate a single piece of material to cover multiple steps. When disabled, each tread or riser/tread combo will be allocated individually.

Rectangular Cuts Only

Only available when landing segments are selected. When checked this option causes any unusual or pie shaped steps on a landing to be allocated as simple rectangular pieces. When unchecked, the pieces will be allocated according to their exact shape.

Riser Exists

This option toggles whether material will be allocated for risers or not. This option also affects the visual appearance of the stairs in the 3D viewer.

Expanded View

This option toggles the 2D view to show the risers in the overhead view of the drawing. When disabled, the risers are hidden so that the stairway can align with surrounding rooms. This option is not available if a landing section is selected.

Display 3D Border

This option is visual only and affects stairs appearance in the 3D viewer.


Border Width

Enter a width for border on the stairway. Once a width is entered options appear below to select a product and color.

Separate Riser Product

If riser and tread product need to be different, check this box. You will then be able to search your product list or database to for riser products