Measure Mobile requires that the device the Disto will be paired with is Bluetooth Smart compatible. It currently supports the following Leica Distos:
For a complete list of compatible Disto devices see the article Choosing the Right Bluetooth Disto.
Video Tutorial
How To:
1. If drawing a new room: From the drawing screen tap the blue plus icon

and select Line Draw, Free Draw or Extend Room. Start your first point to bring up the keypad in the right side section
If editing an existing room: Select the wall handle of an existing room to bring up the keypad in the right side section
2. Make sure that Bluetooth has been enabled on your device as well as on the Disto. Press the Bluetooth icon on the keypad in the right side section in Measure Mobile, then press Search for Disto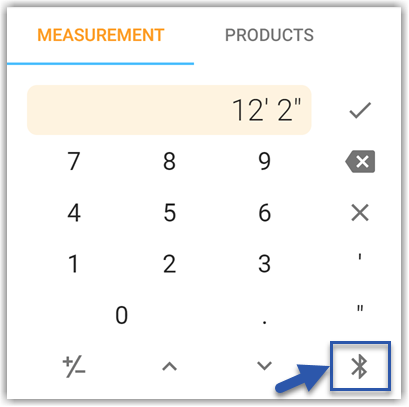 3. Select the Disto listed on the screen. When Ready is displayed the Disto is connected.
Tip: If your Disto doesn't appear after you've selected Search for Disto, make sure that your Bluetooth is turned on by pressing and holding down the blue Bluetooth icon on the Disto.